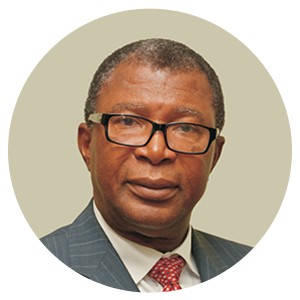 Dr. Charles Mensa is the founder and Chairman of the Institute of Economic Affairs, Ghana (IEA). He is also the Board Chairman of SAB Miller Ghana Limited and was formerly the Chairman of Barclays Bank Ghana Limited now ABSA Group. Dr. Mensa brings to the board of Fan Milk Limited an extensive experience in leading key industries and also in public policy advocacy.
Dr. Mensa served as the CEO of Volta Aluminium Company (VALCO), the largest aluminium smelter in sub-Saharan Africa. Prior to assuming the position of CEO in October 2004, he had been the Resident Director of VALCO since joining the company in April 1996. He was also Vice President of the Association of Ghana Industries (AGI), and President of the Ghana Employers Association (GEA).
Dr. Mensa previously worked in the United States as a Research Associate at the Centre for Public Choice, George Mason University, and at the International Monetary Fund (IMF). In the United States, Dr. Mensa obtained a Master's degree in Finance from the George Washington University and a PhD in Economics from George Mason University.
Committee Membership: Audit
Other Directorships: Maersk Shipping Company, Quality Care Medical Clinic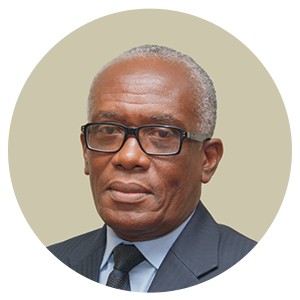 George H.O. Thompson B.A. (Hons) LLB (Hons) Barrister-At-Law and Solicitor. He was called to the Ghana Bar in September 1976 and to the Bar of The Gambia in March 1982. He was appointed Assistant State Attorney/Asst. Registrar General and worked at the Registrar General's Department from 1977 to 1980.
He was attached to the U.S. Department of Commerce (Patents & Trademark Office) in 1979 and has been in private law practice since 1980. He was appointed Special Prosecutor by the Government of The Gambia in March 1982 in connection with treason and allied offences. In private practice, he has rendered opinion and advice on a wide range of civil matters such as competition law, banking, corporate, labour, tax and land law to both local and foreign companies. George has acted for Volta Aluminium Company Limited, Westinghouse Electric Corporation, Sanyo Electric Co. Ltd, Maersk Ghana Limited, APM Terminals Ghana Limited, Damco Logistics Ghana Limited, Sky IP International Limited and the Saudi Arabian Embassy in Ghana. He currently runs the law firm of G.H. Thompson & Associates which has a special relationship with the South African intellectual property law firm of Spoor & Fisher.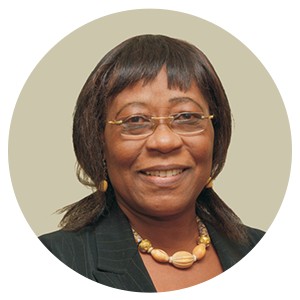 Peace Ayisi-Okyere (Mrs), was educated at Wesley Girls' High School in Cape Coast, Ghana.  She holds an Honours degree in Economics from the University of Ghana, and a Masters' in Business Administration (Finance and Accounting option) from the prestigious Babson College in the USA.
Peace started her career from the Ministry of Finance and Economic Planning in 1968, and then rose to the position of Chief Economics Officer and Coordinator for the Ghana Aid Programme. Between 1987 and 1998 she worked with the African Development Bank Group in Abidjan as Advisor and then Executive Director. She contributed to the governance, audit and operational evaluation of the Group's operations.
From 1999, she played other roles in the public and private sectors in Ghana such as Government Portfolio Manager, and Technical Advisor for Innovation and Entrepreneurship in the Private Sector Ministry. She ensured the good governance of many institutions and corporate bodies through her role as non-executive director (Barclays Bank, Ghana, Export Development and Investment Fund, Ghana Post, Ghana Re Insurance Company, Injaro Investment and Agricultural Advisory Services.) Presently, she is a Consultant on Human Resources including audit, job and workload Analysis.
Committee membership: NIL
Other Directorships: NIL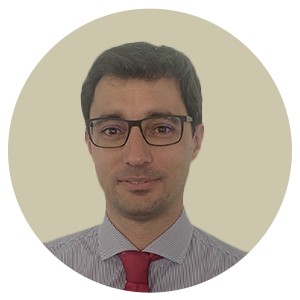 Mr. Frédéric Leblan, who is the VP Finance, Danone Africa was appointed non-executive director in October 2019.  Mr. Leblan has a demonstrated history of administrative, financial and risk management and leadership in the food production industry.
Mr. Leblan started his career in 1996 at Lafarge Aluminates UK Finance positions. Mr. Leblan joined Danone in 2001 as Finance Manager of HP Foods Group, based in London. 
In 2004 he was promoted as Danone Group Cash Flow Business Controller, then Finance Director at Evian Volvic Sources in 2007. In 2010, he took the role of Corporate Development Project Director working in particular on Danone Africa recent acquisitions.
In November 2014, Frédéric was appointed Finance Vice President for Waters LATAM where he helped strengthen finance process and team supporting the region to deliver a strong profitable growth.
In January 2018, Frédéric was appointed to his current role as Vice President Finance, Danone Africa.
He holds the DECF - Diploma D' etudes Comptables et Financieres, the French equivalent of CIMA and also Master - Sup de Co Program from the Reims Management School in France.
Committee Membership: NIL
Other Directorships: Fan Milk Togo, Fan Milk Côte d'Ivoire, Fan Milk PLC (Nigeria), Fan Milk International (Denmark), Emidan A/S and Ice Midco A/S both in Denmark.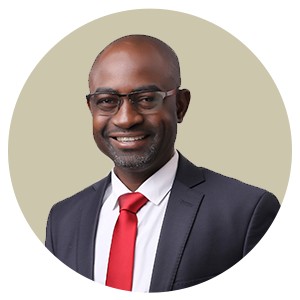 Mr. Ziobeieton Yeo, has significant experience in general management, global marketing, operations, communications, brand development and product management. Mr. Yeo has almost 20 years of experience in different positions in several countries including Cote d'Ivoire, Senegal, Kenya, Ghana and South Africa. 
He has held a number of general management, customer development and marketing positions at Unilever, and recently as Managing Director of Unilever Ghana Ltd. 
Prior to that he was the Managing Director of the 16 countries of Unilever in Francophone West Africa. Before that Mr. Yeo was a Senior Marketing Director for Africa Foods at Unilever in South Africa Durban. He also spent 3 years in Nairobi Kenya as Senior Marketing Director for Africa for Foods and Oral Care divisions at Unilever Kenya.
Mr. Yeo started his career in advertising in 1999 as Senior Client Account Manager at Ogilvy & Mather, Cote d'Ivoire.
Mr. Yeo holds a post graduate degree in Marketing, Communications and General Management from the ESCA Business School in Abidjan. He also studied Business English at Brighton University, in the United Kingdom.
Committee Membership: NIL
Other Directorships: Fan Milk Togo, Fan Milk Cote d'Ivoire, Fan Milk PLC (Nigeria) and Fan Milk International.

Mr. David Percy Duker, the Sales Director of Fan Milk Limited is an accomplished Sales & Marketing professional and has over 20 years' professional experience working with multinational FMCGs in Ghana. He has led and with his influence contributed to the organic growth of the organisations within the competitive environment. He was a key commercial sponsor that led a team to understand the Diageo Visibility Automation program in Nairobi- Kenya (TRAXX) in 2017. 
Mr. Duker obtained his West African Examination Certificate (WAEC) Ordinary Level Certificate from Aggrey Memorial Secondary School in 1987 and WAEC Advanced Level Certificate from Swedru Secondary School in 1989. He proceeded to pursue his Professional Certificate Marketing- Chartered Institute of Marketing in 2008 and obtained a Marketing Degree from Kwame Nkrumah University of Science and Technology-Garden City College Campus in the 2012/2013 academic year and acquired a Masters' Degree in Business Administration from the University of Ghana Business School in 2016.
Mr Duker obtained international experience in academia from the North-Eastern University (D'Amore- McKim-School of Business), USA, Temple University (Fox School of Business), USA and Yale School of Management- (Executive Education)-Global Network School Program- Connecticut- USA.
Mr Duker started his career as a Company Sales Representative at UNILEVER from 1999 to 2009 and rose through the ranks to the position of a Divisional Sales Manager from 2010 to 2012. He also worked as a Divisional Sales Manager at DIEGO from 2012 to 2018 where he was assigned to different territories until his appointment to the Company.
Committee Membership: NIL
Other Directorships: NIL